Products - Colour CD Printing in Printed Colour Cardboard Wallets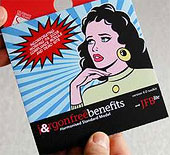 Colour CD Printing in Printed Colour Cardboard Wallets
This configuration is made up of:
CD Disc
Capacity: up to 700 MB
Usage: Audio, Data, Video, Games etc.
We use AAA grade Moser Baer & Falcon Professional grade CD-rs. These discs are full face, which means your design can print right up to the centre of the disc.
Our discs start life white coated upon which is printed your black text or colour design.
Colour
Direct to the body (not labels!) high quality professional digital printing in superb full colour – photo quality. Resolution is 4800 x 1200 DPI using the latest state of the art digital print process. Inferior processes such as Thermal printing (only 600 DPI) are never used.
Cardboard Wallet single in colour
This is an easy, durable and eco-friendly way to pack a single CD, DVD or Blu-Ray disc. Printed front and back in full colour on Premium 300 gsm Pro Card, the disc fits snuggly into the cardboard wallet.
Premium Quality & Die Cut for an immaculate finish. Printed using our Industry leading Digital press.
Product code:
CD-C-CWC-NN
Quantity:
100 pieces
Price per disc:
£

1.14