We offer both soft ( electronic) and hard copy proofs to you, free of charge.
Some customers just want to visualise or in the case of a hard copy, see the quality of their order and how it will actually look when printed.
So for example this customer wanted to see the colour match of his disc to the digipak: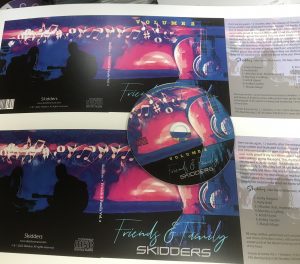 It can be the case that printed parts will not exactly match the colour of the same colour upload, when its printed on a disc…just the fact that they are printed on different mediums can affect the tone of the colour sometimes.
In the case of a hard copy proof we print 2 copies and hold 1 here as a control and post the other to you by Royal Mail.
You then have the option to approve straight away if you are happy with the print or to alter it by uploading new artwork to us.
We will always work with you to get the best result possible for your order.
Not everyone wants or needs this so if you do, just need to mention that you would like this in the notes (which is a free field text section) as you check out.
We have all sorts of other advice in our artwork section here:
https://www.duplicationcentre.co.uk/artwork.html
Or you can call us on 01702 530354 and we will be happy to help you.
Tags: advice, artwork, CD artwork, CD Duplication, Design Tips, Helpful HInts, printing